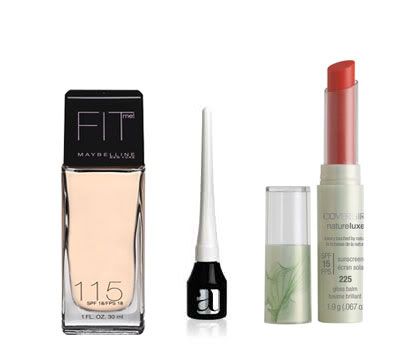 I don't know if I'm trying to make up for the lack of posts lately or not, but I just have a lot to talk about today. Besides my new (and awesome!) Amazon Kindle I got, I also went and did a little makeup shopping this evening...and this I what I came back home with.

Lipstick : Naturelluxe by Cover Girl in 225 Anemone
Liquid Eyeliner : Liquid liner by Almay in Black
Foundation : Fit by Maybelline
New York
in 115
I love my new makeup, especially the lipstick. I love it so much in fact, that this is the second time I bought it in less than a week. I lost the first one two days after getting it and I had loved it so much that I just had to get it again...Even thought this time, it wasn't on sale :(
***
Je ne sais pas si j'essaie de me rattraper dans mes articles ou non, mais j'ai simplement beaucoup à dire aujourd'hui. À part mon nouveau (et génial!) Amazon Kindle que j'ai reçu, j'ai aussi été faire un peu de magasinage de maquillage ce soir...et voici ce avec quoi je suis retournée à la maison.
Rouge à lèvre: Naturelluxe de Cover Girl en 225 Anemone
Traceur d'oeil liquide : Traceur de Almay en Black
Fondation : Fit de Maybelline
New York
en 115
J'adore mon nouveau maquillage, spécialement le rouge à lèvre. Au fait, je l'aime tellement que c'est la deuxième fois en moins d'une semaine que je l'achète. En effet, j'ai perdu le premier deux jours après l'avoir acheté et je l'aimais tellement qu'il fallait absolument que j'en achète un autre...même si celui-ci n'était pas en rabais :(
Yours truly, Bien à vous,
Martine