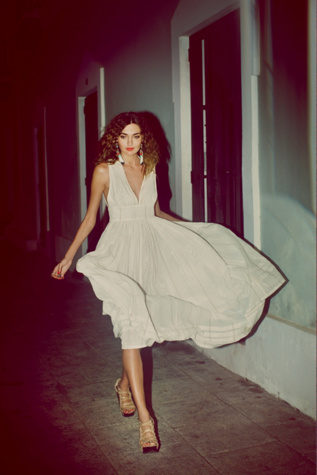 Click on the images for the link // Cliquez sur l'image pour le lien
... MAXI DRESSES! Ever since my trip to Cancun (a year and a half ago), I've been searching for the perfect maxi dress. I saw this one dress on a girl that I absolutly loved! It was green (like the second picture above). Actually, here's a picture of the dress!
The dress was so pretty, and it had crissed-crossed braided straps in the back. Anyways, I've been looking everywhere for a dress just like that, but haven't been lucky so far. Maybe some of you know what I could get one??
***
... ROBES MAXI! Depuis mon voyage à Cancun (plus d'un an et demi passé), je suis à la recherche de la robe maxi parfaite. J'ai vu cette robe sur une fille que j'ai absolument adorée! Elle était verte (comme la deuxième image ici-haut). Au fait, voici une photo de la robe!
Cette robe était tellement belle, et les bretelles étaient tressées et se croisaient dans le dos. En tous cas, je suis à la recherche d'une robe comme celle-là, et la chance ne m'a pas encore faire signe. Peut-être quelques-uns d'entre vous sauraient m'aider??
Yours truly, Bien à vous,